#EmbraceEquity this International Women's Day [Classroom Resources]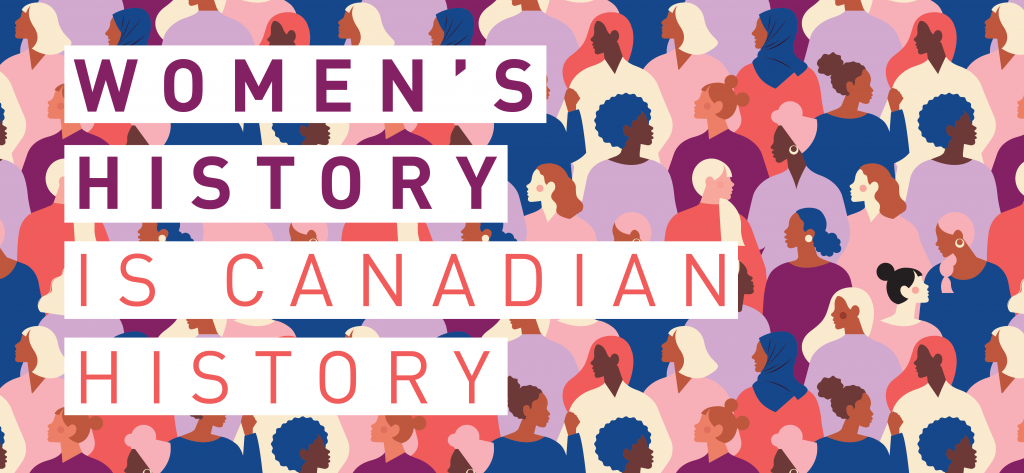 Date: February 24, 2023

International Women's Day (IWD) is a day of unity. Occurring on March 8 each year, the holiday is a celebration of women's social, economic, cultural, and political achievements, as well as a call for advocacy and action to accelerate women's equality.
IWD has been around for over a century, with the first gathering in 1911 mobilizing over a million people. In 1975, recognized as International Women's Year, the United Nations designated the annual holiday in March. This year's International Women's Day theme is #EmbraceEquity.
On IWD, we commemorate the key moments that have defined women's rights in Canada, from the Married Women's Property Act to the creation of a Pay Equity Commission and everything in between. We encourage you to use these fun, interactive activities to help your students engage with women's history and other IWD topics!
---
Activity 1: Wear Purple!
Purple is the official colour of International Women's Day. Encourage your students to wear purple on March 8 or, for a more hands-on activity, organize a purple tie-dye party to get everyone involved.
Purple is historically associated with efforts to achieve gender equality. It was first used alongside green and white as the colours of the Women's Social and Political Union, the organization that led Britain's 20th-century women's suffrage movement. In the 1960s and 1970s, feminists revived the colour to represent the women's liberation movement as a tribute to the suffragettes.
Dressing in support is a great option if time isn't on your side—even a small action like this can have a huge impact. You can also download these #EmbraceEquity Selfie Cards to be worn by your students or posted around the school!
Activity 2: Hold a "Pink Tea"
Replicate a famous "Pink Tea" and learn about prominent Canadian suffragists the Famous Five. Pink Teas played a crucial role in the victory of the Persons Case, a constitutional ruling that established the right of women to be appointed to the Senate.
When the Famous Five campaigned for women's right to vote and run for elected office, opponents often disrupted their meetings. But men didn't attend traditionally women-only tea parties, so the group started calling their political meetings Pink Teas.
The Famous 5 Foundation has all the resources you need to have your own Pink Tea with your class. Check out their guide on how to host one, listen to a six-minute 360-degree audio experience that transports your students back in time, and test their knowledge with a short quiz.
Want your students to experience this history firsthand? Consider taking them on one of our Ottawa tours to see the Famous Five historic monument depicting the most famous tea party in Canadian history!
Activity 3: Screen a Women-Centric Documentary or Biopic
Showing a film can be useful for students in so many ways: deepening their understanding, making learning fun, and improving their memory performance, for starters. With educator facilitation, movies can bring IWD themes to life for students. Even screen your film over a class lunch or a pizza party—bonus points for ordering from a women-owned and -operated business!
Here are a few of our favourite woman-centred films to choose from:
The Color Purple – This 1985 adaptation of Alice Walker's famous novel portrays the role of women in a patriarchal society and the struggle to overcome these injustices through the complex character of Celie.
Hidden Figures – This film starring Taraji P. Henson, Octavia Spencer, and Janelle Monae tells the inspiring story of a trio of Black female NASA scientists who helped launch the first American astronaut into space.
The Breadwinner – Based on the young adult novel by Deborah Ellis, this animated feature film follows an 11-year-old girl forced to pretend she's a boy after her father is imprisoned under the Taliban regime. It was an official Toronto International Film Festival 2017 selection and a 2018 Oscar nominee.
Suffragette – In this 2015 British historical drama film directed by Sarah Gavron, a woman's life changes when she joins the U.K.'s 1912 suffragette movement, providing an eye-opening look at the historic social movement.
On the Basis of Sex – Ruth Bader Ginsburg, the second woman to serve on the U.S. Supreme Court, is the subject of this 2018 American biographical legal drama. The movie focuses on RBG's lifelong commitment to changing the status quo and securing equal rights.
Consider asking students to write a movie review after the screening or reflect on one of the memorable scenes and why it stood out. What did it make them think about? How did it make them feel? As you pre-screen the movie, you may want to make note of some key scenes where you'll pause for discussion.
Activity 4: Invite Changemakers to Speak
Invite special guests and host a Q&A with a group of change-making women! An assembly is a great way to get the whole school involved and make IWD feel that much more important—however, a class workshop is also a great alternative. Consider inviting women from male-dominated industries, like tech or construction.
Depending on the age of your students, they may be able to prepare their own questions, or staff members can step in to help. Get started with these tips. You can also search for a registered IWD speaker here.
Activity 5: Learn Through Games
Do you know what percent of women make up the workforce in Canada? Or how many countries worldwide don't allow women access to higher education? Trivia or multiple-choice polls are great ways for your students to engage with women's history and rights. Here are two great resources to gather statistics and facts:
Or create a bingo game or crossword search designed around influential women in science, literature, and history. Your students could also play Name the Dame to identify who said which quote or accomplished which feat.
To reflect on the day's events, students can write letters to their future selves: How will they use what they learned today to inspire future action? What action would they like to see made in 10 years?
You'll find even more activities on the Government of Canada website. Historica Canada also has a Women in Canadian History Education Guide, including historical timelines, educational activities, worksheets, videos, and so much more.
---
International Women's Day encourages us to honour women's achievements, raise awareness about discrimination, and take action to drive gender parity. We invite you to join us in this year's mission to #EmbraceEquity by celebrating this meaningful holiday in your classroom and beyond!