Let's journey forward, where safety comes first
WorldStrides has built a 55-year-old reputation for industry-leading commitment to health and safety. Expecting the unexpected is where we excel. Our experienced team is leading the way now in innovating and evolving to make sure your travel experience is safe, and full of fun, even in uncertain times. We're committed to providing you peace of mind and ultimate flexibility.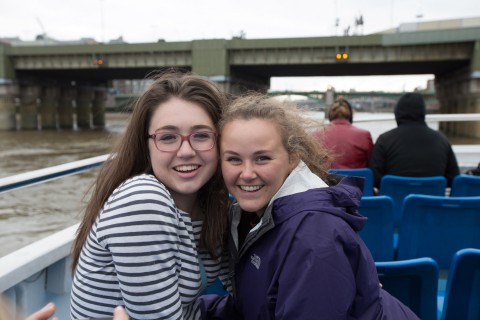 Emergency support that sets us apart
We have built a strong network over many years to support our focus on safety. Learn more about our emergency support and troubleshooting resources.
Doctors on Call: Now more than ever, our exclusive partnership with the George Washington University Department of Emergency Medicine can give you peace of mind. This partnership gives your group access to medical phone consultations, should the need arise. Additionally, mental health support for any participant is just a phone call away. In response to the coronavirus (COVID-19), Dr. Neal Sikka, who leads our Doctors on Call program, has played a key role in developing additional guidance and protocols, including a detailed process by which we involve the medical team, if necessary.
WorldAssist: You'll have a team that sweats the small stuff for you while travelling thanks to the 24/7 support of our WorldAssist team, staffed by WorldStrides employees who are trained to handle any situation.
Tour Directors: Our Tour Directors lead immersive and engaging activities that connect students with new cultures and perspectives—and they're with your group 24 hours a day, ready to lend a hand if an emergency occurs. Carefully-vetted and well-qualified, our Tour Directors are trained to manage whatever comes their way.

Meet the Team
We believe Health and Safety is a full-time job. Not just for one person, but for a team. Ours is led by Vice President Robin Reliford, who is solely focused on the job of keeping our students safe. Backed by the resources of the entire organization, they are ready to spring into action with plans for situations large and small.
A plan for every contingency
Led by Vice President Robin Reliford, our health and safety team is the best in the field of educational travel. Our number one priority is keeping our travellers safe, and we do so by working closely with partners like Exlog Global and Dr. Neal Sikka at the George Washington University Department of Emergency Medicine.
Partnerships: Our decades-long relationship with airlines, hotels, and other vendors means you'll interact with vetted, experienced, and reliable operators on tour. All are committed to cleanliness and safety, especially now, and we are working closely with them to understand and inform their best practices.
Worldwide network: Rest assured that you're never alone—with WorldStrides team members and offices on six continents around the world, there's always a WorldStrides team member ready to assist you in real-time.
Coverage: We've partnered with global partners to set the standards for medical, evacuation, and liability insurance with best-in-class support that provides an extra layer of coverage for our participants, our Group Leaders, and the schools with which we partner.
Total Travel Protection: No one wants to think about having to cancel their trip, but sometimes life happens. The Travel Protection Plan Plus, which includes the "Explorer" insurance package from TuGo, covers you for a range of events, including:
A traveller's injury, sickness, or death of a family member;
Theft of passport or visas;
Flight cancellations and delays;
Loss of luggage and personal effects;
Trip cancellation or trip interruption due to covered reasons such as illness, injury, death, acts of terror;
Trip cancellation due to Government of Canada travel advisory for "avoid all travel" or "avoid non-essential travel";
School Board or governing organization-enforced trip cancellations
The cost of Travel Protection Plan Plus is $25 per day of your tour, to a maximum of $375. The plan should be purchased within 10 days of your tour enrolment to ensure maximum coverage and cannot be refunded after 7 days from purchase.
If you have questions about your coverage, please call TuGo at 1-855-929-8846 and refer to the "Explorer" insurance package.
A team approach to safety and security
WorldStrides' in-house Health & Safety Team, led by our Chief Academic, Health & Safety Officer and Head of Health & Safety, leverages decades of experience to continually assess the safety of the destinations where we travel and the activities in which our students participate. Our WorldAssist by WorldStrides Team serves as our emergency response command centre, staffed 24/7 by WorldStrides employees who are specially trained to handle any on program situation — no matter how big or how small.
Frequently Asked Questions
Emergency Contact Numbers
Please call these numbers only in regard to an emergency on a program that is currently travelling (available 24/7).