How to Create a DEI-Informed Classroom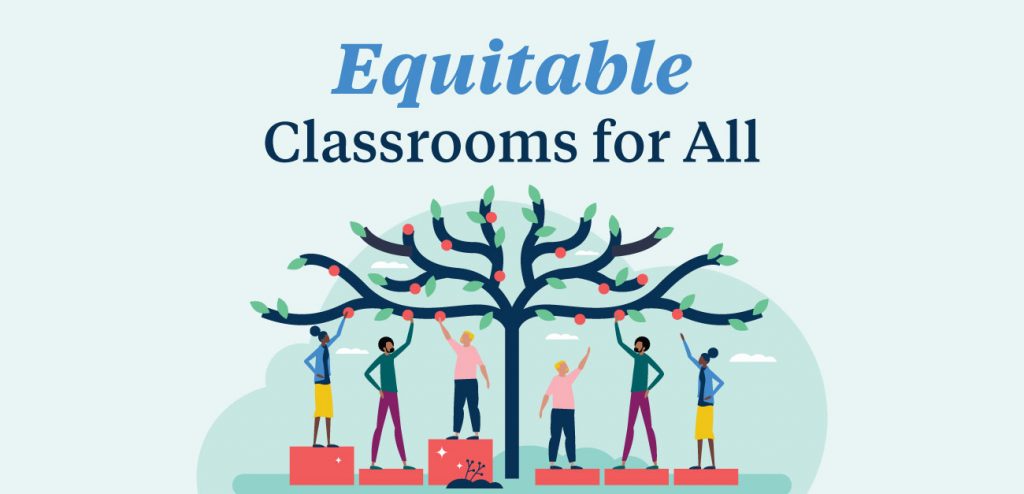 Date: August 24, 2023

Take a moment to recall your favourite teacher. What was it that made them so special? Our best teachers were always the ones who made every one of their students feel special. That's the life-changing power of creating a classroom that celebrates diversity, equity, and inclusion.
In 2020, the Global Education Monitoring Report published findings about education and inclusion around the world and the results were eye-opening. For instance, did you know that 23 European countries do not include sexual orientation or gender identity in their curricula? Or that one out of every three teachers across 43 upper-middle and high-income countries reported not adjusting their teaching to reflect their students' cultural diversity?
We think our students deserve better. That's why we've compiled this list of tips for creating a truly inclusive learning environment.
First things first, know the difference between equity and equality.
An equal classroom is one in which all students are treated the same, regardless of ability, background, identity, and learning style. While this may sound good in theory, classrooms and lessons that ignore student diversity often end up benefiting one type of student while placing another at a disadvantage.
An equitable classroom is one that ensures equitable access to classroom materials, pedagogical approaches, and resources. This might mean scaffolding lessons for students at different learning levels, changing your method of instruction as needed, and ensuring that classroom resources are positioned to meet students at every level. Pro tip: Plan to use a variety of instructional styles and materials in your lessons like videos, worksheets, and hands-on activities in order to differentiate your instruction and reach all of your students.
Remember that actions always speak louder than words.
The best way to teach your students how to value diversity and inclusion is to model it for them! A culturally responsive teaching approach is one that incorporates books, resources, and lessons from diverse perspectives and authors and highlights the contributions of underrepresented groups throughout history. Creating a diverse classroom can be as simple as asking students about their "school break" rather than their "Christmas holiday," creating spaces for students to share about their cultures, backgrounds, and favourite traditions through a student forum or the creation of new clubs, or taking your students on school trips to explore other cultures in exciting new destinations.
Activity highlight: Global Pen Pals
Creating a pen pal program with students in another country is a great way to foster global citizenship and broaden your students' worldviews. Learn more about how to start your pen pal program and how to find pen pal partners.
Work with administration to implement school-wide changes.
Creating a classroom that celebrates equity and inclusion is an important first step in teaching your students the value of diversity. Schools can help foster an equitable environment by appointing a DEI leader. This person, with the help of a working group or council, can build a roadmap towards an inclusive and equitable environment for all. There are several schools in Canada, the US, and the UK that have already appointed a DEI leader and can provide some inspiration for taking the leap at your own school! Read more about the leaders at the Branksome school in Ontario, the Beaconsfield school in the UK, and at the Bethlehem school in New York!
Schools should also ensure that all students have access to after-school programs, extra-curriculars, and educational travel opportunities. We support schools in creating equitable access to educational travel and programming through the WorldStrides Financial Assistance Program. The FAP provides additional financial assistance to travellers who have undergone financial hardship, identify as a member of an underrepresented group, or possess a disability. You can learn more about our commitment to incorporating DEI into everything that we do here.
---
Like this post? Make sure to check out some of our other posts on the importance of creating an inclusive classroom all year round and strategies for minimizing gender biases in your classroom.