12 Holiday Dishes from Around the World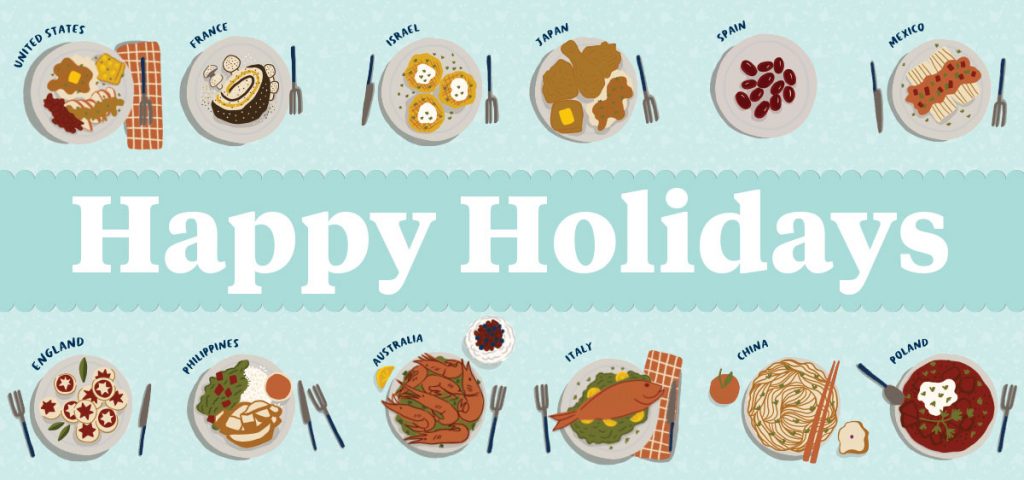 Date: December 7, 2021
Crispy latkes laden with sour cream, sweet-smelling fruit pies spiced with cinnamon and nutmeg, roasted turkey paired with creamy mashed potatoes and tangy cranberry sauce, a bucket of Kentucky Fried Chicken…
The holidays are almost upon us, which means plenty of specialty dishes we can't wait to sink our teeth into. (Yes, we meant to say KFC…read on to see why.) Though memorable meals often play an integral role for most special occasions, it's especially true for the winter holidays.
These 12 holiday dishes from around the world are sure to whet your appetite.
Canada — Roast turkey dinner with all the trimmings
Of course, we have a lot of different holiday foods here in Canada that vary by region and even by family, but a classic turkey dinner is often what first comes to mind for the holidays.
France — Bûche de Noël
Directly translated as "log of Christmas," the Bûche de Noël is France's version of a Yule Log cake. The eye-catching cake roll is usually decorated with chocolate frosting mimicking tree bark and small meringue or marzipan pieces shaped into mushrooms.
Mexico — Tamales
Dating back to ancient Mesoamerican cultures, the tamale, masa, and meat filling wrapped in a corn husk, has long been eaten during celebrations. Now, it holds an extra special place for Mexican and Mexican-American families who often hold tamaladas (tamale-making parties) to churn out the delicious tamales en masse.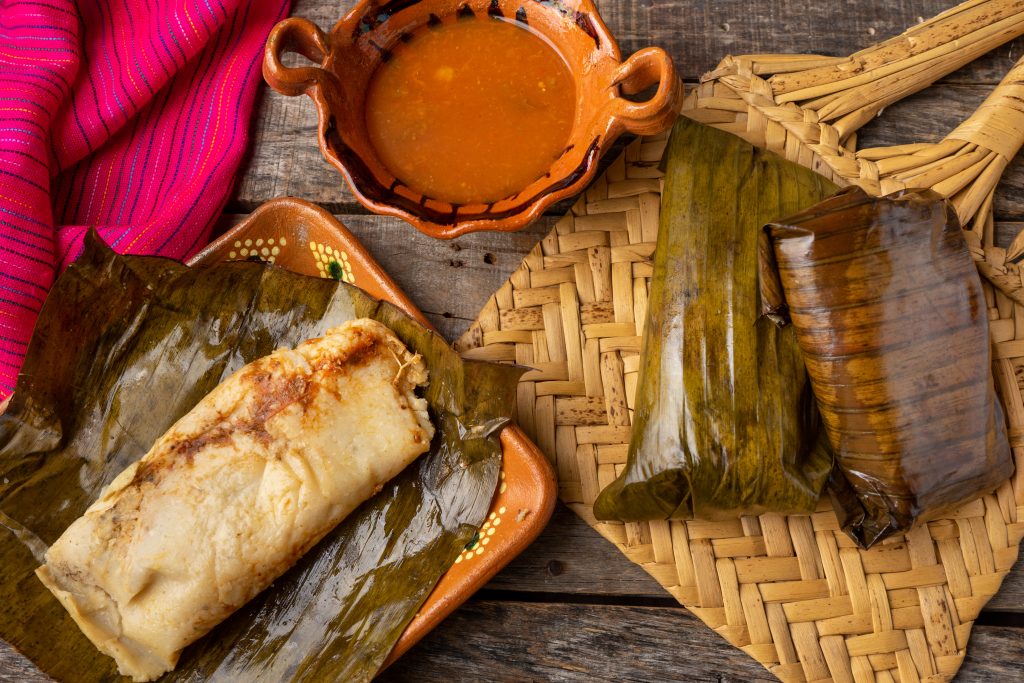 Japan — Kentucky Fried Chicken
Kentucky Fried Chicken has been a popular Christmas go-to in Japan ever since a very successful marketing campaign in the 1970s. During that time, a KFC franchise decided to run a special promotion during Christmas. Since there weren't any strong Christmas traditions in Japan, the novelty caught on and became an instant tradition.
Italy — Feast of the Seven Fishes
Originally a southern Italian tradition, many Italian families prepare the Feast of the Seven Fishes for Christmas Eve dinner. Seven seafood dishes representing the number seven, the most repeated number in the Bible, are made for the massive meal.
Israel — Latkes
Freshly fried in plenty of oil, crispy potato latkes are eaten throughout Hanukkah. The holiday marks how a small amount of oil meant to light the menorah lasted a miraculous eight days during the rededication of the Holy Temple back in 164 BC. Now, latkes have become synonymous with Hanukkah as the oil-laden pancakes are a symbol of the oil miracle.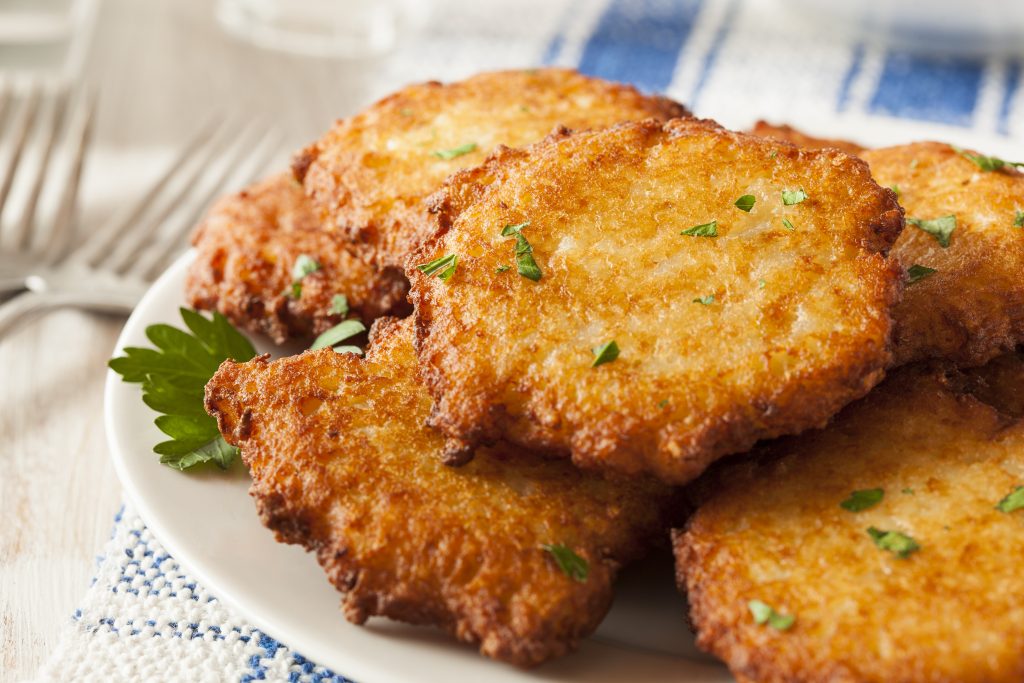 England — Mince pie
While we might think of pumpkin or pecan pie for the holidays, in England, mince pies take center stage as the pie of choice. The sweet treat supposedly dates back to the 1300s when knights returned from the Crusades with new spices. Nutmeg, cloves, and cinnamon are mixed with dried fruit, called "mincemeat," and baked into a pie.
Philippines — Lechon
Though lechon, roast suckling pig, is popular in several parts of the world, it's particularly important in the Philippines. Often thought of as one of the country's national dishes, lechon also plays a role on holidays and especially around Christmas, when it's enjoyed for dinner on Christmas Eve.
Poland — Red borscht
In Poland, a carefully prepared Christmas Eve feast called Wiglia begins as soon as the first star appears in the sky. The special meal traditionally includes 12 dishes, representing the 12 apostles, including barszcz, a beet soup also known as red borscht, as well as herring, carp, poppy seed cakes, and more.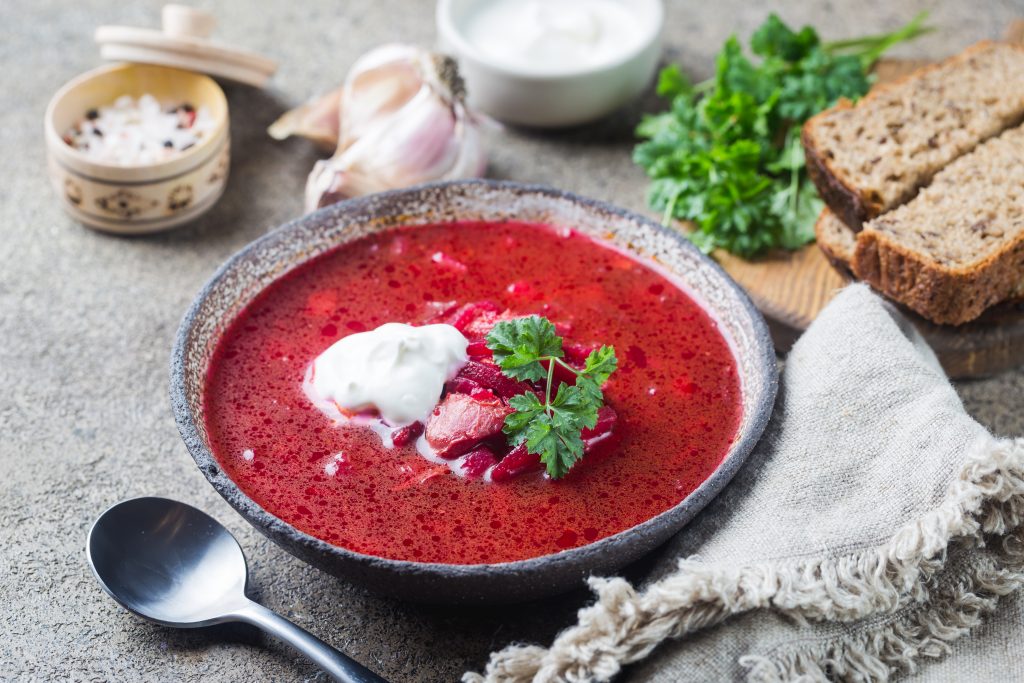 Australia — Barbecued shrimp and pavlova
While winter and Christmas go hand-in-hand in the northern hemisphere, most Australians can't fathom having a white Christmas. By the end of December, summer is in full swing, and Christmas dinners make use of the outside barbecue rather than roasting ovens. Barbecued shrimp is often on the menu, as is pavlova, crispy meringue topped with fresh berries and cream.
Spain — 12 grapes
Celebrate New Year's Eve with Spaniards and they'll make sure you have 12 grapes in your hand, ready to be scarfed down as the clock strikes midnight, for good luck in the coming year. Accounts differ on how this tradition came to be, but it's as widespread as singing "Happy Birthday" for someone's birthday…everyone does it!
China — Longevity noodles
During China's Lunar New Year, people will make sure to have long noodles, or "longevity noodles," at their feast for good luck. The longer the noodle, the longer the life! Whoever prepares the noodles makes sure not to cut or break them, while the person enjoying them will gain even more luck if they can eat them without biting through the long pieces.
---
Happy holidays from WorldStrides Canada team!