Teacher Appreciation: It can be more than just a week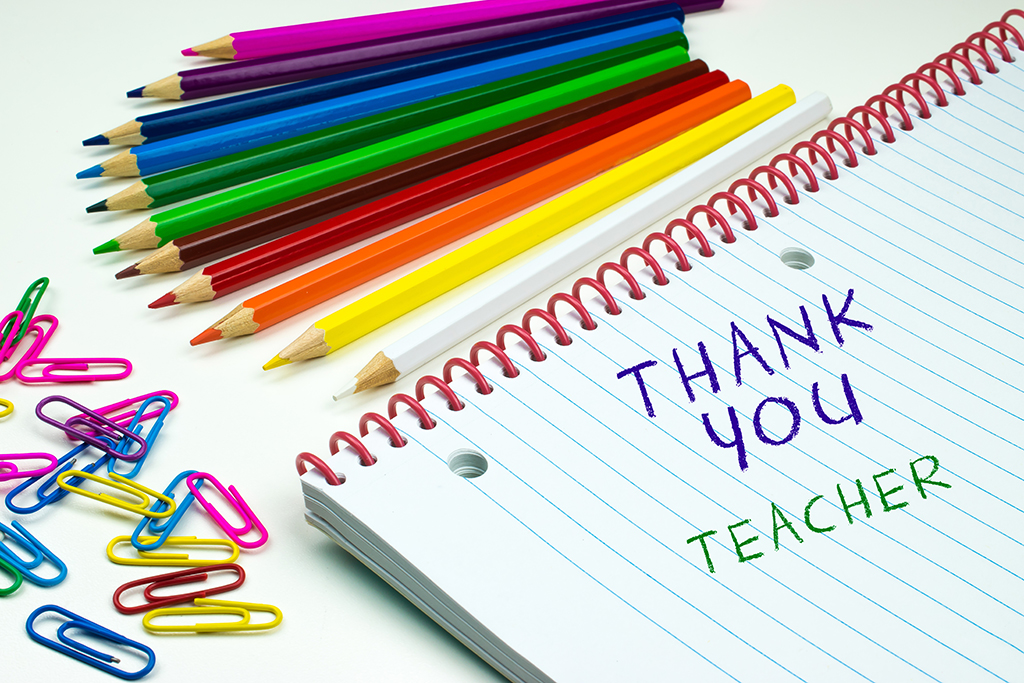 Date: May 4, 2021
How education has changed in the past year! The stresses that our schools continue to experience are felt by everyone – students, teachers, school staff, and parents are doing what they can to make the best of things. Teachers, like everyone else, were forced to move into the online space with no warning, training, or preparation. But for teachers, working remotely can be a real hurdle. They miss their students, they miss the regular interaction, and they miss the rejuvenating energy that comes from getting a simple hello or smile from a student in their classroom. In the absence of that, consider an impromptu gesture that will show your teacher how much you appreciate them. Online or hybrid learning shouldn't keep you from recognizing and acknowledging your teacher's efforts and hard work.
There are plenty of fun and meaningful ways to celebrate and appreciate teachers virtually.

The old classic – a handwritten note!
Who doesn't love getting mail? I've saved every note that a student ever gave me. They are great to look through when you are feeling down or worried that you aren't doing enough for your students. A teacher will always appreciate a handwritten note as a reminder that they are making an impact on the life of a student.

Does snail mail seem too old-fashioned? Looking for a more modern take on sending a card?

Consider creating a Kudo Board.
The free version allows for ten different posts that can include pictures, videos, and gifs in addition to text. It is easy to invite contributors to add to the board without having to register to share their message. More than ten students in a class? No problem – just send multiple Kudo Boards.

Everybody loves gift cards!
Take a look at this blog post about thoughtful gifts for teachers. Maybe the teacher has an Amazon wish list for their classroom? Teachers are always short on supplies and often pay out of pocket for what they need.

Want to really go all out?

Consider planning a drive-by parade or honk-a-thon to honour a special teacher.
First, devise a way to get your teacher in a particular location at a specific time (perhaps you can ask the principal to help). Next, recruit other students and parents to participate. Students can make signs, decorate cars, and honk the horns as they drive by.

You can still surprise your teacher without the grand effort a of parade.

Coordinate with other classmates to draw pictures and make signs that show their thanks and respect in some way.
Then, at a specified time during an online session, all students can reveal their creations at once. Undoubtedly your teacher will be delighted and surprised by the production. A similar idea involves preparing a special virtual background that all students can reveal on a given day. Students can design their own backgrounds to either demonstrate thanks or to celebrate the teacher's likes and personal interests.
---
Do you have other great ideas for how to show teachers some love? We'd love to hear about them and how your teacher reacted!

Email the Curriculum and Academics team at discoverycanada@worldstrides.com to share your suggestions.
---
By: Carrie Weber