From Marching Bands to Big Glam: The Super Bowl Halftime Show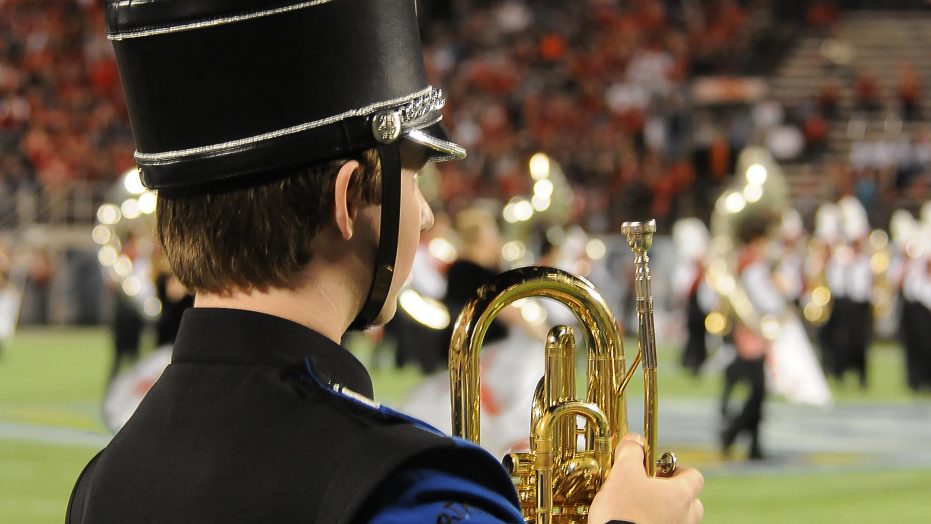 Date: February 9, 2022
Are you looking forward to the Super Bowl LVI halftime show more than the game itself? If so, you're not alone! Over the decades, this famous (and sometimes infamous) feature of the big game has become a cultural icon of its own. While the halftime show is now known for its spectacle—like Katy Perry's record-breaking performance or the first-ever solo Canadian performer, 2021 headliner The Weeknd—it hasn't always been that way.
Before it became a grand, televised event, the Super Bowl halftime show was designed for an in-person audience, usually including university marching band performances alongside entertainers like The Three Stooges. These exhibits were closer to what you might see at a college football game today, although they did include some extras. The halftime show for the first AFL-NFL World Championship (what's now called the Super Bowl) featured jet packs, pigeons, and much more.
The change began incrementally a few years after the AFL-NFL merger in 1970. Ella Fitzgerald and Carol Channing were the first popular vocalists to perform at a Super Bowl, with Fitzgerald also the first African-American woman to do so—in addition to USAFA Cadet Chorale and U.S. Marine Corps Drill Team—in New Orleans. This 1972 presentation was dedicated to Louis Armstrong (and took place in his hometown) after he'd passed away the year before.
Halftime shows continued to evolve in waves over the next few years. In 1976, Up With People was the first non-marching-band group halftime performance as well as the first to install a sound system and theatrical lighting. They performed at the Super Bowl four more times, and their efforts really showcase the transition from an on-site event to a televised spectacle. Starting in 1991, globally recognized pop music acts like New Kids on the Block became the norm. In fact, in 1993, Michael Jackson's halftime performance had more viewers than the game did!
If you're curious about who else has represented Canada at the Super Bowl, the first time was in 1997 when The Blues Brothers [Dan Aykroyd (from Ottawa, Ontario), Jim Belushi, and John Goodman] performed, accompanied by their band (which was led by Canadian Paul Shaffer), James Brown, and ZZ Top. Then, in 2003, Shania Twain took centre stage in addition to No Doubt and Sting.
As one of the world's most-watched sporting events on television, the Super Bowl draws millions of Canadian viewers annually! Wondering who's performed throughout the years? Check out the rundown below.
A breakdown of Super Bowl halftime shows by year
1967: The Three Stooges, University of Arizona Symphonic Marching Band, Grambling State University Marching Band, Al Hirt, and Anaheim High School Drill Team and Flag Girls
1968: Grambling State University Marching Band
1969: "America Thanks" – Florida A&M University Band and Miami-area high school bands
1970: Marguerite Piazza, Doc Severinsen, Al Hirt, and Lionel Hampton Southern University Marching Band
1971: Southeast Missouri State Marching Band
1972: "Salute to Louis Armstrong" – Ella Fitzgerald, Carol Channing, Al Hirt, USAFA Cadet Chorale, and U.S. Marine Corps Drill Team
1973: "Happiness Is" – University of Michigan Marching Band, Woody Herman, and Andy Williams
1974: "A Musical America" – University of Texas Longhorn Band and Judy Mallett (Miss Texas 1973) on fiddle
1975: "Tribute to Duke Ellington" – Mercer Ellington and Grambling State University Marching Bands
1976: "200 Years and Just a Baby" Tribute to America's Bicentennial – Up With People
1977: "It's a Small World" – Los Angeles Unified All-City Band including spectators waving coloured placards on cue
1978: "From Paris to the Paris of America" – Tyler Apache Belles Drill Team, Apache Band Pete Fountain, and Al Hirt
1979: "Super Bowl XIII Carnival" Salute to the Caribbean – Ken Hamilton, various Caribbean bands including Grammacks of Dominica
1980: "A Salute to the Big Band Era" – Up With People, Grambling State University Marching Bands
1981: "A Mardi Gras Festival" – Southern University Marching Band and Helen O'Connell
1982: "A Salute to the 60s and Motown" – Up With People
1983: "KaleidoSUPERscope" – Los Angeles Super Drill Team
1984: "Super Bowl XVIII's Salute to the Superstars of the Silver Screen" – the University of Florida and Florida State University Marching Bands
1985: "A World of Children's Dreams" – Tops in Blue
1986: "Beat of the Future" – Up With People
1987: "Salute to Hollywood's 100th Anniversary" – George Burns, Mickey Rooney, Grambling State University, and USC Marching Bands
1988: "Something Grand" featuring 88 grand pianos, the Rockettes, and Chubby Checker
1989: "Be Bop Bamboozled" featuring 3D effects with Elvis Presto and South Florida-area dancers
1990: "Salute to New Orleans" and 40th Anniversary of Peanuts' characters, featuring trumpeter Pete Fountain, Doug Kershaw, and Irma Thomas
1991: "A Small World Salute to 25 Years of the Super Bowl" – New Kids on the Block
1992: "Winter Magic" including a salute to the winter Olympics featuring Gloria Estefan, Brian Boitano, and Dorothy Hamill
1993: "Heal the World" finale included audience card stunt
1994: "Rockin' Country Sunday" – Clint Black, Tanya Tucker, Travis Tritt, and Wynonna and Naomi Judd
1995: "Indiana Jones and the Temple of the Forbidden Eye" – Tony Bennett, Patti LaBelle, Arturo Sandoval, and the Miami Sound Machine with stunts including fire and skydivers
1996: Celebrating 30 years of the Super Bowl – Diana Ross with special effects, pyrotechnics, and stadium card stunt
1997: "Blues Brothers Bash" – Dan Akroyd, John Goodman, and James Belushi featuring "The Godfather of Soul" James Brown and ZZ Top
1998: "A Tribute to Motown's 40th Anniversary" – Boyz II Men, Smokey Robinson, Queen Latifah, Martha Reeves, and The Temptations
1999: "Celebration of Soul, Salsa, and Swing" – Stevie Wonder, Gloria Estefan, Big Bad Voodoo Daddy, and tap dancer Savion Glover
2000: "A Tapestry of Nations" – Phil Collins, Christina Aguilera, Enrique Iglesias, Toni Braxton, and an 80-person choir
2001: "The Kings of Rock and Pop" – Aerosmith, 'N'Sync, Britney Spears, Mary J. Blige, and Nelly
2002: U2
2003: Shania Twain, No Doubt, and Sting
2004: Janet Jackson, Kid Rock, P. Diddy, Nelly, and Justin Timberlake
2005: Paul McCartney
2006: The Rolling Stones
2007: Prince and the Florida A&M marching band
2008: Tom Petty & The Heartbreakers
2009: Bruce Springsteen and the E Street Band
2010: The Who
2011: The Black Eyed Peas, Usher, and Slash
2012: Madonna
2013: Beyonce
2014: Bruno Mars and the Red Hot Chili Peppers
2015: Katy Perry, Lenny Kravitz, and Missy Elliott
2016: Coldplay, Beyonce, and Bruno Mars
2017: Lady Gaga
2018: Justin Timberlake and the Tennessee Kids, University of Minnesota Marching Band
2019: Maroon 5, Travis Scott, Big Boi
2020: Shakira, Jennifer Lopez
2021: The Weeknd
2022: Dr. Dre, Snoop Dogg, Eminem, Mary J. Blige, Kendrick Lamar
---
Don't forget to grab your favourite snacks and tune into CTV, RDS, or TSN on Sunday, February 13, 2022 (you can also livestream the big game on DAZN)—kickoff is planned for 6:30 p.m. Eastern Time, and halftime should begin around 8 p.m. This year marks the Super Bowl's first halftime with an all hip-hop lineup, and we're excited to see how the show turns out! If the idea of performing for crowds of fans excites you, be sure to check out our performing arts opportunities.