Female Athletes Forge the Future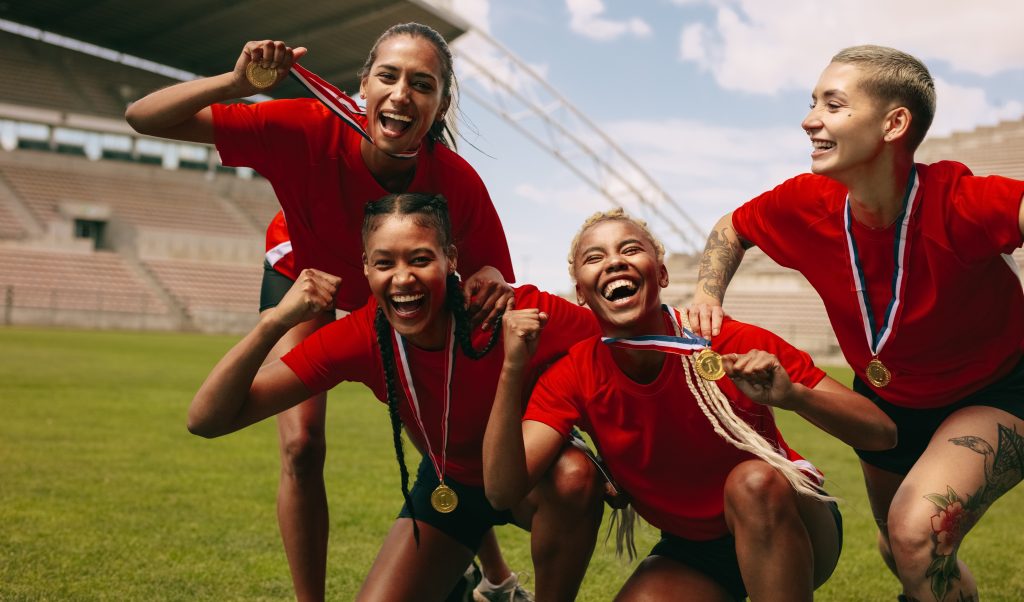 Date: October 20, 2021
You've probably heard that "the future is female," and this certainly includes sports. At the 2020 Olympic Games in Tokyo, women accounted for 49% of all athletes—making it the first gender-balanced Olympic games in history. Did we mention female athletes continue to outperform males, as well? In fact, in the first week of the Olympics, Canada took home 11 medals, and ALL were won by women. By the end of the games, three-quarters of all Canadian medals were earned by female athletes!
Canadian women own the podium
Let's take a minute to celebrate some incredible Canadian female athletes and all of the hard work and endless dedication that went into making them world champions.
Penny Oleksiak, the most decorated Canadian in Olympic history
At just 21 years old, this rockstar swimmer won three medals at the Tokyo Olympics, adding to her four medals from the Rio Games in 2016.
Cindy Klassen, speed skating star
Six-time Olympic medallist Cindy Klassen surprised the world when she won five medals in one Olympic Games in 2002 and reached the podium in every event she entered in Turin.
Clara Hughes, ruler of the seasons
Another six-time medallist, Clara Hughes competed in both cycling and speed skating, making her the only Canadian athlete to win medals at both the Summer and Winter Olympic Games.
Check out the 40 Most Powerful Female Athletes of All Time for more inspiring stories of women in sport!
The never-ending gender bias
Despite all this, women and women's teams are largely underfunded and underrepresented in sport, and female athletes often face gender-biased rules and double standards that don't allow them to reach their fullest potential. For example:
The

Norwegian women's handball team

was fined for "improper clothing" because they wore shorts instead of bikini bottoms. (The men's teams have always worn shorts.)
In lacrosse, women wear skirts and goggles but men wear shorts and helmets. Men are also allowed full contact when playing, but women cannot be "intimidating or dangerous" during play.
When Simone Biles withdrew from Olympic events due to mental health concerns, she faced backlash; when Serbian tennis player Novak Djokovic withdrew after losing three matches and throwing his racket, he was praised for prioritizing competition.
According to a BBC survey, 65% of women in sports have suffered sexism, but only 10% felt comfortable enough to report it.
How can we make a change?
Kick down barriers
Teachers and coaches can start to remove barriers for and support women by simply encouraging them to continue with sports or return to them. Sports help build courage, confidence, and leadership skills in girls and women, creating a diverse, inclusive, and equitable society for everyone. To learn more about the barriers that cause female athletes to drop out of sports as they grow older, see the Canadian Women & Sport Rally Report here.
Promote equality in sports media
Strong female role models will encourage the number of aspiring female athletes to grow. By increasing the number of women broadcasters, enhancing coverage of women's competitions and practice, and improving the portal of women in sports media, UNESCO suggests we can begin to make a difference.
Build camaraderie within your team
Team bonding activities provide another means of building confidence and camaraderie in girls and women, such as taking a team trip. WorldStrides Sports programs can be the push many young female athletes need to continue pursuing their passions into the professional arena.
After the Canadian Women's National Soccer Team took home the gold during this year's Olympics, there's little doubt they'll qualify for the 2023 FIFA Women's World Cup. Consider bringing your team to Australia and New Zealand to see the Cup unfold for a once-in-a-lifetime opportunity that will show your female players what's possible for their future! You'll get to watch incredible female athletes compete in person, cheer on the Canadian team from the stands, and encourage your team to follow in their footsteps.
---
To learn more about trips to Australia and New Zealand for the 2023 Women's World Cup, email Scott Monro at scott.munro@worldstrides.com.